Athens Marina, a JP AVAX concession, is signing on as a new member of Camper & Nicholsons Marinas' new initiative, 'the 1782 Club'. The marina club programme is designed to promote an exclusive group of independently owned and operated marinas, in partnership with the world's oldest and most prestigious yachting brand.
Stavros Karnakis, General Manager of Athens Marina, said, "Athens Marina is happy to be the first super yacht marina in Greece to join the Camper & Nicholsons 1782 Club. As part of the global network, clients of Athens Marina will enjoy benefits of cooperation between participating other Camper & Nicholsons global marinas, including benefits on a case-by-case basis, including berthing discounts."
Camper & Nicholsons Marina Network in Europe and Middle East
Kurt Fraser, Sales & Marketing Director for C&N Marinas, added, "We are delighted that Athens Marina has joined the Camper & Nicholsons Marinas network and will benefit from the many advantages the 1782 Club provides. This is an outstanding facility, ideally located at the heart of yachting in Greece. Of particular interest to our clientele, is that the marina is a completely private enclave compared to other local berthing options, offering yacht owners absolute discretion."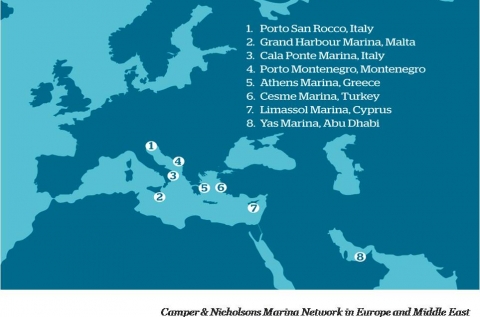 Athens Marina, formerly known as Faliro Marina, was constructed in 2004 to accommodate the needs of VIP visiting yachts for the 2004 Athens Olympic Games. It has regularly hosted many of the world's finest super yachts in its ten years of operation – in particular, those that value its exclusivity.
Athens Marina is owned by AVAX S.A., BIOTER S.A. and VERNICOS YACHTS S.A.
From large-scale infrastructure works and concession contracts to high-end real estate projects and facility management, AVAX has established a reputation as one of the leading contractors and concession operators in South Eastern Europe. From Olympic Stadiums to airports, highways to hospitals, corporate headquarters to luxury hotels and marinas, the AVAX S.A. group of companies has substantial expertise in the delivery of projects across a wide range of budgets and technical specifications.
For further information, berth bookings and details of the facilities at Athens Marina, contact Stavros Karnakis, General Manager at info@athens-marina.gr or on +30 21048 53200, or please visit www.athens-marina.com